Growth Track
July 22nd - December 23rd, 2018
AT CELEBRATION, WE BELIEVE WE ARE ALL ON A JOURNEY OF LIFE TOGETHER! We believe that God has incredible purpose for each of us and, as we discover and express that purpose, we find fulfillment in life.
To find out more about this journey, we invite you to join us on the Growth Track!!!
GROWTH TRACK is a series of four classes designed to help you get to know God better, find freedom from the issues of life, discover your purpose, and find fulfillment through making a difference in the lives of others. During Growth Track you will also learn about the history, structure, and beliefs of Celebration Church and be given the opportunity to become a member.
Growth Track starts with Step One on the first Sunday of each month We invite you to jump in during ANY class! Snacks and beverages will be provided.
WHERE: Celebration Church Office/Gym Building (across the parking lot from the church sanctuary). Just look for the Growth Track signs.
WHAT TIME: 9:45 AM - 10:45 AM
CHILDCARE: Please register them for children's church in the C-Kids Building. (Registration opens at 9:30 AM)
CLASS SCHEDULE (except for the date changes listed below):
*1st Sunday - StepONE - Know God
*2nd Sunday - StepTWO - Find Freedom
*3rd Sunday - StepTHREE - Discover Purpose
*4th Sunday - StepFOUR - Make a Difference
We will not have class on the following 5th Sundays: July 29th & September 30th.
Young Adults : Night of Worship
July 27th, 2018
Hey young adults! High school grads and those in your 20's and 30's!
Our young adult ministry is growing; lot's of momentum; and we're only getting started!
Join us for our next monthly event, our Young Adults Night of Worship. We'll be hanging out, experiencing community, engaging in some amazing worship, and learning about the vision and future of our young adult ministry. God has big plans for our young adults.
So, join us Friday night, July 27th at 7pm, in the sanctuary.
Childcare is provided. However, if you need childcare, you must register so we know how many kids to prepare for.
See you on July 27th!
Baby & Child Dedications
July 29th, 2018
Baby and child dedications are an opportunity for parents to publicly declare their intent to raise their children according to God's Word and in a manner that will bring Him glory. Just as Hannah dedicated young Samuel to the Lord in I Samuel 1:26, baby and child dedications are a special time in which parents dedicate their children to God for His glory and purpose. It is also a time for friends, family, and the Celebration Church body to signify our support of parents as they endeavor to raise their children in a God-honoring manner.
Baby dedications occur every 5th Sunday of the year during our third service at 11:45am in the cafeteria.
Girls Night Out - Love on the Rock... Fear of the Dark!
August 17th, 2018
Girls' Night Out
Love on the Rock... Fear of the Dark!'
Ladies, you are invited to a special Girls' Night Out on If you have ever struggled to hold onto faith when it seemed like fear had a choke hold on you, or everything around you felt like God had abandoned you and the darkness was closing in, then this event is for you! If fear and anxiety feel like constant unwanted companions, then please join us as we learn from a panel of speakers who have faced and overcome giants of fear, loss, betrayal and more, to live freely and fully in faith and love. Invite friends and register today at www.celebrationchurchnc.com.
Childcare is free!
Light refreshments will be provided.
Location: Sanctuary
Register below, and we'll see you on Friday, August 17th @ 7pm!
Don't miss out! It's going to be awesome! And please bring a friend!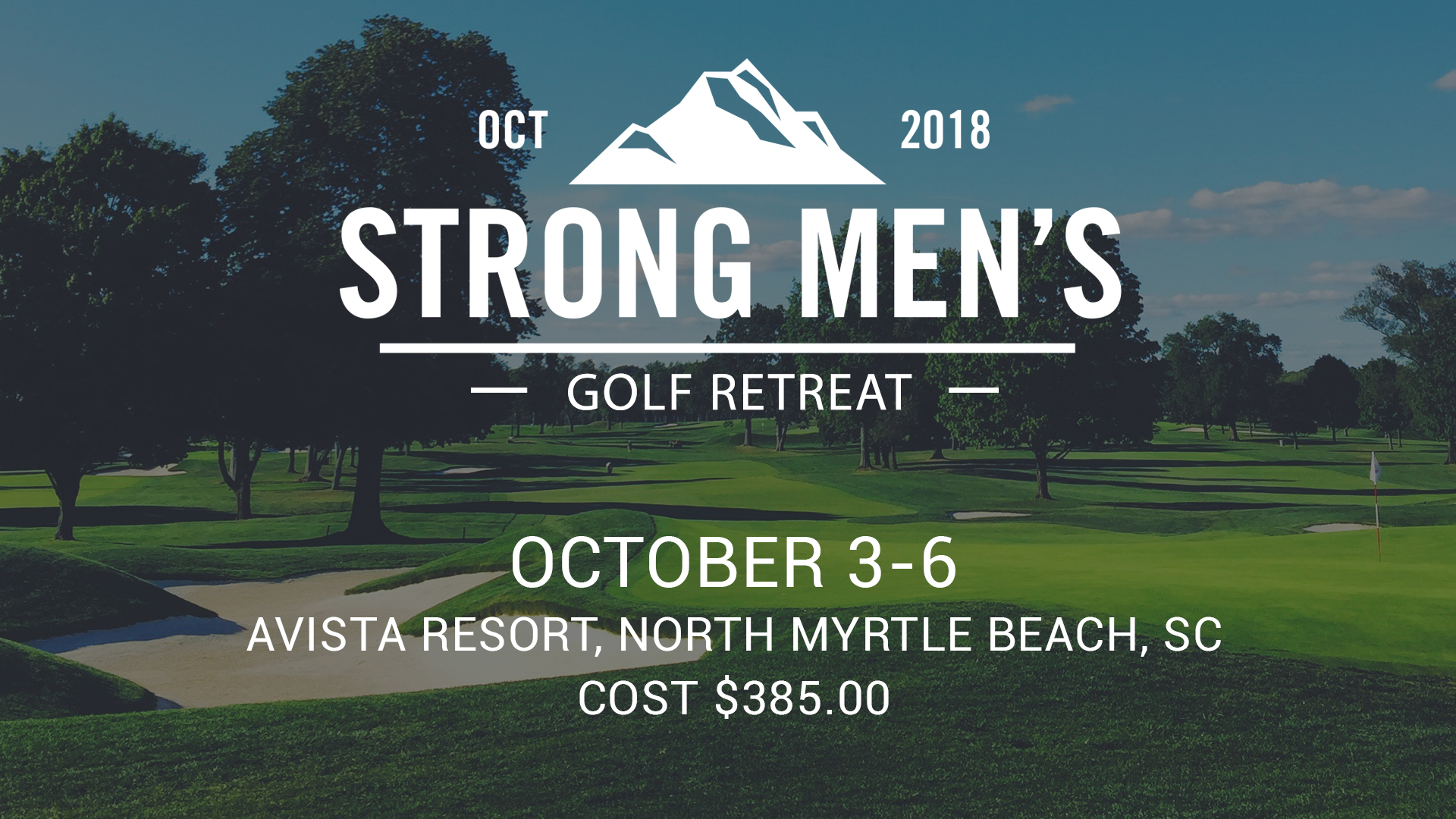 Men's Golf Retreat
October 3rd - October 6th, 2018
$385
Be a part of our 15th Annual Men's Golf Retreat. From October 3rd through 6th, we will be staying at Avista Resort in North Myrtle Beach, SC and playing three different golf courses.
Men, invite a friend or bring your teenage son (age 16 and up) to this memorable Golf Retreat. We will eat some great food, have a Friday night Bible study with
Pastor Lynton, and play all the golf your heart can handle.
Please have your registration fee of $385 paid in full by September 1st.
Make sure to get your deposit of $100 in as soon as possible to reserve your spot. It is going to be a blast!
Strong Men's Ministry Retreat
October 19th - October 20th, 2018
$75
Register for our Strong Men's Ministry Retreat, taking place at Camp Oak Hill & Retreat Center. Our
desire is for men to have an encounter with God and to grow in their relationship with Him. It is also
vital for men to connect with other men. The Scripture says as iron sharpens iron, so one man
sharpens another. This retreat will bless your life and you will have a lot of fun, eat some great food,
and enjoy fellowship with other men of God. Fathers are encouraged to invite their teenage sons.
The last day to register is Sunday, September 16th.
Cost is $75 per person and includes 3 meals and all activities the camp offers.
Register Today
October New Member's Luncheon
October 28th, 2018
COME ENJOY LUNCH AND FELLOWSHIP WITH OTHER NEW MEMBERS, AS WELL AS OUR CELEBRATION PASTORS, AND THE GROWTH TRACK TEAM!
Who: Those who have completed all four Growth Track Classes and have become a Member of Celebration
Luncheon dates for 2018: June 24th or October 28th (Please choose one)
What time: 1 p.m.
Where: Celebration Cafeteria
Childcare: Available at no charge for ages up to age 12 yrs. Please register each child needing childcare, separately.