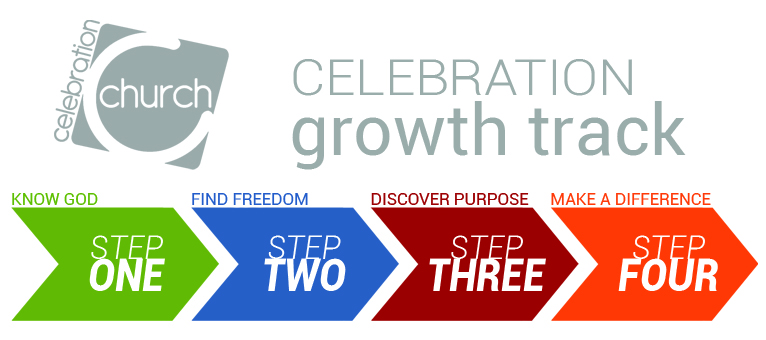 Growth Track
November 26th - February 25th, 2018
AT CELEBRATION, WE BELIEVE WE ARE ALL ON A JOURNEY OF LIFE TOGETHER! We believe that God has incredible purpose for each of us and, as we discover and express that purpose, we find fulfillment in life.
To find out more about this journey, we invite you to join us on the Growth Track!!!
GROWTH TRACK is a series of four classes designed to help you get to know God better, find freedom from the issues of life, discover your purpose, and find fulfillment through making a difference in the lives of others. During Growth Track you will also learn about the history, structure, and beliefs of Celebration Church and be given the opportunity to become a member.
Growth Track starts with Step One on the first Sunday of each month. We invite you to jump in during any class! Snacks and beverages will be provided.
Where: Celebration Church Office/Gym Building (Just look for the Growth Track signs)
What time: 10:45 AM - 12 PM
Childcare: Please register them for children's church in the C-Kids Building. (Registration opens at 10:30 AM)
Growth Track Class Schedule:
*1st Sunday - StepONE - Know God
*2nd Sunday - StepTWO - Find Freedom
*3rd Sunday - StepTHREE - Discover Purpose
*4th Sunday - StepFOUR - Make a Difference
20th Anniversary Celebration
December 3rd, 2017
Celebration Church is 20 this year, and we're having a party to commemorate this milestone achievement!
• Date: Sunday, December 3 • Time: 6:00 p.m. • Where: Celebration Church
But wait, there's more! We have the awesome opportunity to honor our Dream Team and to help us celebrate YOU, Christian comedian, Jeff Allen will join us for all the fun during this very special evening! EVERYONE'S invited!
Childcare is available (registration required) for ages 0-12.
If you plan to attend, please register by clicking: 20th Anniversary Registration
No further action required if you're unable to attend. We will certainly miss you!
2017 Baptisms
December 10th, 2017
2017 Baptisms:
December 10th (Register below for this date)
Time:
12:45 p.m. for participants
1 p.m. for family and friends
Celebration Church Cafeteria (Located across the parking lot from the Sanctuary in the Gym building. Please enter through the Office entrance by the stairs and look for the Baptism sign.)
We believe that something very powerful and spiritual happens when a believer gets water baptized. First, we baptize because we were commanded by Jesus to do so. Second, we believe that it is symbolic as well as testifies to the world that when one goes down in the water and comes up out of the water, one has placed their faith and total trust in the death, burial, and resurrection of Jesus Christ. Third, it is symbolic of the reality that when one receives Christ, there is literally a washing off of the old man (sinful nature) and leaving the old man under the water buried. When one comes up out of the water, they are raised a new man. Water Baptism also identifies the new Christian with a local church (body of believers).
Scripture references: Matthew 28:19; Acts 2:38; Colossians 2:12; Ephesians 1:22-23; Romans 6:4-5
Please read the Celebration Church Baptism Instructions that will show up once you register.
Baby & Child Dedications
December 31st, 2017
Baby & Child Dedications are an opportunity for parents to publicly declare their intent to raise their children according to God's Word and in a manner that will bring Him glory. Just as Hannah dedicated young Samuel to the Lord in 1 Samuel 1:26, baby & child dedications are a special time in which parents dedicate their children to God for His glory and purpose. It is also a time for family, friends, and the Celebration Church body to signify our support of parents as they endeavor to raise their children in a God-honoring manner. 
We'll meet at 10:30 AM in the cafeteria.
Radiance Chosen - 2018 Women's Conference
April 27th - April 28th, 2018
$45
Early bird registration is now open.
Lunch is included in the price. However, if you prefer to provide your own lunch due to dietary restrictions, please indicate so when asked under the "Questions" section on the following page.
Please note: We regret that we are unable to give any refunds, either for lunch not ordered or for any cancellations. Thank you for understanding.
Stay tuned for more details about this amazing event.
Strong Man Conference
May 18th - May 19th, 2018
$0 - $35
We have been given a precious commodity in life ­ "time". What are you going to do with it? Will you make a difference with the time you have been given? The 2018 Strong Man Conference Weekend is centered around equipping you with the necessary tools to make a difference with your life in your community and in your world.
What does it mean to "make a difference" and how do I do it? Register for this conference to learn how!!! The world wants you to focus on "making a profit". God wants your focus to be on "making a difference"